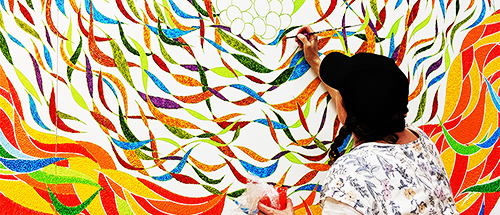 Judith Ellen Sanders is a painter and writer with a love for the vibrancy of color, the flow of line and design, and the beauty of words. Born and raised in New York, during her art career, delighted by the subtle and beautiful step-by-step changes flowing through the cell, Judith went to graduate school to study biochemistry. As she studied the molecular world, the flow of the molecules into and out of the cell as they shifted and changed looked to her like a graceful dance of synthesis and synergy and so as she wrote her papers and took her exams she continued to paint and write as well. At graduation she crossed the stage for her diploma and walked back into the studio to put a lens on transformation and possibility.
An artist-in-residence for four years at Leverett Crafts and Arts in Leverett, Massachusetts, Judith is now a resident artist at an arts center in the Boston area. As a lending artist with the Corporate Program at the deCordova Sculpture Park and Museum, Judith's paintings can be found on display in a variety of corporations in the Boston area including Prometrika, the Back Bay Events Center, Boston Properties at the Prudential Center, The Gutierrez Company, Brightcove, H3 Biomedicine, and Windham Capital, among others.
Judith's poem Art Supplies From Heaven, about a joyful excursion to the wonderful (and now sadly closed) New York Central Art Supply was published in the New York Times both in print and online, and the Origami Poems Project chose Kisses Not Snow as one of the 23 finalists in their Kindness Contest and her poem is now part of their second Kindness Anthology, The Best of Kindness: Poetry of Kindness. Inscape Magazine published her poem Light Green Grace for their Spirituality issue and Chaleur Magazine recently published Hear Her Song "...Hear her song / it turns into a cloak of clarity / and like weaving together a constellation of stars / brings heaven to earth / to light her way ...". This November, Tiny Seed Magazine published her poem "And the Trees Dance" in their new issue The Tree Journal.
The arts writer Lisa Gallay wrote, "It's as if in painting an interior landscape, Sanders is replaying the parts of her scientific study that science itself could not describe: the grandeur and mystical energy of growing life forms, the elegant shapes of creatures and plants, the way they retain their elegance and their curiously visible power and vitality at the microscopic level. Sanders' work represents a visual expression of both the questions that remain where science leaves off and of the images that haunt a sensitive consciousness."
Judith's work is part of several private and corporate collections including Wellington Management, Baystate/UMass Biomedical Research Institute, Mount Auburn Hospital, and most recently the A.T. Still Medical School in Mesa, Arizona, and Chapel Bridge Park Research and Development Campus in Newton, Massachusetts. And, as her work translates well to a variety of media, Baystate Health commissioned to have Judith's two-panel painting "Circles of Light I and II" reproduced onto Plexiglass for their Children's Hospital Specialty Center where it is now on permanent display.