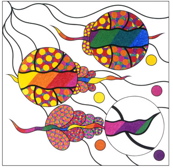 Judith Ellen Sanders uses color and form to capture the dynamic essences of biology and biochemistry. In the paintings featured here, Sanders fuses the rhythm, balance and emotion of the natural world into vibrant visuals.
Sanders channels her infatuation with science into her work. Her interest in biology—"these gorgeous organic molecular structures, these solid foundations that are us"—often infiltrates her art; the constant flow of cellular processes is her inspiration. She is captured by, as she puts it, "the repetition, but the repetition with the slight changes, step-by-step—slight, slight, beautiful changes—where enzymes come in, cofactors come in, compounds leave."
"There's a dance," she says.
The theme of repetition (complete with slight change) shows up in many of Sanders' works, including "In/Scape" and "Shells To Birds."
While Sanders' work is highly abstract—it does not aim to literally represent the science from which it's modeled—the artist knows her fundamentals. Sanders obtained her masters degree in nutrition, studying biochemistry and toxicology along the way.
As she worked toward her master's, Sanders balanced her life between science and art. When her studies threatened to overwhelm her, Sanders painted to restore her sense of equilibrium. This commingling of disciplines manifests itself in paintings such as "The Woven Path" and "Centered Fugue."
Biography

Judith Ellen Sanders was raised in New York. She attended the University of Massachusetts-Amherst, where she earned her bachelor's degree in sociology and her master's degree in nutrition. Sanders' paintings were most recently exhibited last fall in a solo show at the Grace Institute in New York. She currently lives in Amherst with her husband.